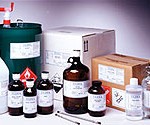 A modern laboratory tests can not do without the use of IT tools to manage and store information relating to the nature and general management of reagents and consumables.
Today it is necessary to meet the new requirements relating to safety, to the Good Practice of Laboratory, certification or accreditation, programming of purchases.
The rules on Work Safety (Decree 626/94) requires that the security officer has all the information related to the chemical reagents in the lab:
Dangerousness
Risk
Rules of Use
Storage Location
Storage conditions
Photosensitivity
Deadline
The use of specialized software systems, it is essential to apply a "Good Practice of Laboratory".
In fact, the requirements to be implemented are manifold and onerous, and it is unthinkable to resort to manual systems or based on general purpose software (Ex. Electronic Tables) which can not guarantee the correct application of the legislation.
It also appears that a good program dedicated to the Warehouse Reagents, in addition to documenting the information in an orderly manner, provides detailed schedules for localization, and can produce labels (including barcode) for a finding and an uniform characterization of Reagents.
The module "Warehouse Products" manages un'Anagrafica that contains its own data of a "traditional" warehouse, but also identifies a technique category of belonging of each Article (Ex. Bases, Indicators, Consumables, culture media, Standards, etc.), allowing the user to freely define new descriptive fields that represent important information for a particular type of material (Features for Article Categories).
Each article can be purchased or internally produced (See Sub-module "Preparations" (Optional)) and may require or not the QC tests
The double-Unit management is automated (Acquisition and Management) by a conversion factor; for each article you can also store alternative suppliers with the respective load rates and reorder Lots.
In addition to freely definable description fields for Article Category, are handled Risk phrases and a Security tab.
The stock movement, provide Lots, Deadlines and storage leases, with its storage conditions. The load movements can be automatically generated in the process of fulfillment order by Supplier.
Labels are also prepared with the Deadline "after opening".
There are many screens and Reports of the situation Warehouse monitoring; you can produce Full article cards.
Including the Enhancement of warehouse according to different criteria: LIFO, FIFO, Last Load, Medium Load).